I am very happy to be celebrating over twenty years as an Authorised Marriage Celebrant.
Over the decades since being appointed by the Commonwealth Attorney General I've conducted hundreds of ceremonies – from intimate elopements to complex rituals, for neighbourhood friends to overseas couples. From them, I've felt privileged to develop an insight into what ritual means, and have been able to create a rich repertoire of ceremonies on which to base my advice on ceremony design.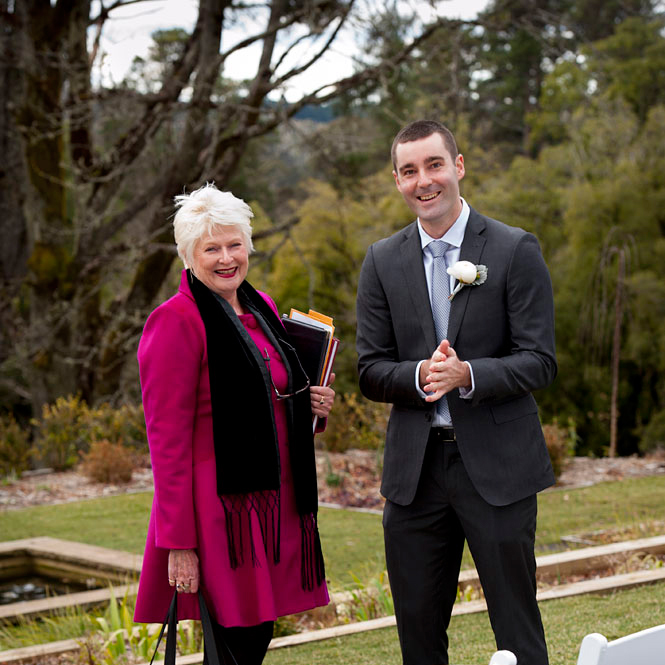 Weddings, Commitments, Renewal of Vows, Reaffirmations, Baby-Namings
Since 1995 I've seen many changes in the Marriage Celebrant Program, and, as a professional and experienced teacher, have trained many celebrants. In response to a growing demand for personalised ceremonies, I also facilitate the making of rituals for other occasions – commitments, renewal of vows, namings – or the creation of new rituals for new occasions. I'm confident I can make your ceremony the unique and significant event you hope for … I would love to meet you for an obligation-free chat or to answer any questions at all that you may have.
I am a foundation member of Australian Marriage Celebrants incorporated, the largest professional network of celebrants in Australia. As such I am constantly updating my knowledge of ceremony rites and marriage law as set down by the Department of Family and Community Services and the Attorney General. As a languages teacher it gives me great pleasure to be able to conduct ceremonies in French, German and Indonesian. I have a long history of conducting ceremonies for overseas couples and incorporating elements of other cultures and languages into my ceremonies.