It is a very exciting time to be a marriage celebrant as we stand at a crossroads in the accepted notion of what it means to be married. No longer can we accept the status quo of marriage being only for heterosexual couples and a compromise ceremony for LGBTI members of the community – whatever our fundamental beliefs may be.
For years I have been offering commitment ceremonies to all couples, straight and gay, who want to make a public commitment to each other presided over by neither the law nor the church. In many ways such a commitment can be an even stronger mark of a union : it does not need a legal document or a religious sacrament to hold it together.
To publicly make a commitment to stand by another person with exclusive, enduring devotion is one of the highest expressions of integrity that characterises humankind.
Marriage is not the only domain within which such dedication can flourish and endure.
Commitment ceremonies provide an alternative to couples who wish to formalise their relationship and make public the union of heart and mind which connects them.
However, marriage has other implications and the argument now is that these implications and the opportunity to share in them be open to all. As well as its legal implications, it is the function of a marriage ceremony to give formal expression to this serious intent and to have it recognised and registered without compromise.
When we reach marriage equality there will be no difference in the ceremonies I conduct for straight or gay couples : marriage will be marriage.
Whether you would like to consider a commitment as an option, or are hoping for the day when legal marriage is open to all, it would be an honour for me to listen to your wishes and help you create a ceremony which reflects your beliefs and feelings for one another.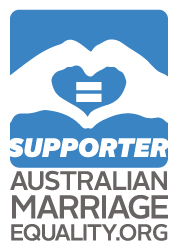 Photography by Catherine deSouza Photography